Home
Dr. Steven Clark Cunningham was born in Denver, Colorado. After graduating from Creighton University with majors in chemistry and Spanish, he attended medical school at George Washington University, finished residency in general surgery at the University of Maryland, and completed a fellowship in surgery of the liver and pancreas at Johns Hopkins University. A list of Dr Cunningham's medical writings is found
here
. In addition to his medical training, he is currently a graduate student and at the Harvard Extension School, with a focus on religious studies. He also has served there as a teaching assistant for HarvardX's MOOC (massive open online course) "Religion, Conflict and Peace."
Featured Publications
NB: If the above link to the publisher's limited-view version of the full, published article fails, here is a link to the submitted article.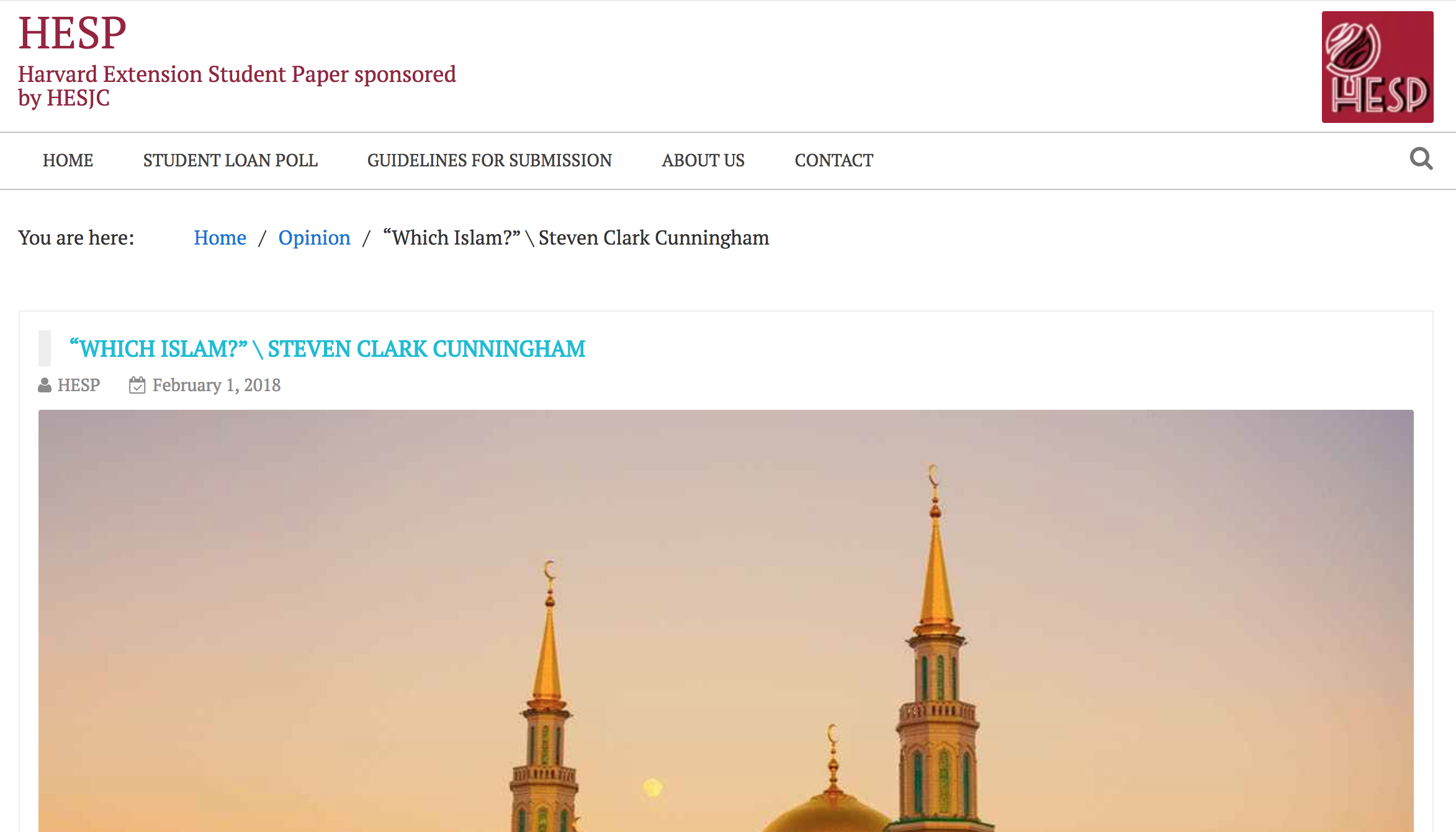 *Click on Images Above for Articles*
Resources
Learn how to better understand the rich and complex ways that religions function in historic and contemporary contexts.
Explore the diverse and complex roles that religions play in both promoting and mitigating violence.
Religious Literacy
Some Ways to be Religiously Illiterate*
Think that religion is simply the rites, rituals, and ceremonies that are commonly performed as part of a given religion…
          (…religion is much more complex than this).
Think that a religion is defined by the scripture of that particular religion…
          (…scripture is important to many religions, but religions are more than scripture and are not limited to their scripture).
Think that religions are monolithic and unchanging over time…
          (…religions are actually very dynamic, changing over time, and from place to place, and from person to person).
Think of religions as things that can do something, in other words, as actors with agency…
          (…religions do not do things, anything; rather, people who interpret religions different ways do different things).
See the actions of individuals or communities through the lens of their religion…
          (…people are more than their religions, and the reasons people do things are rarely just religious alone).
Hold an entire religious community responsible for the actions of an individual in that religious community…
          (…people who commit violent acts are to be blamed for those violent acts, not the many other people who happen to interpret the same religion).
How to be Religiously Literate*
Learn to tell the difference between devotional expression of religion and the study of religion.
Recognize that religions are internally diverse, not uniform, or monolithic, and there are many interpretations of each religion.
Understand that religions and their narratives evolve and change with the times.
See religion as embedded in and influencing all dimensions of culture, as opposed to being separate.
Understand religion as being situated and interpreted in a particular way, depending on one's context.
*Credit Harvard Divinity School's Religious Literacy Project
Religion Reading List
Note: Please do not jump to conclusions about me (or anyone) based on a list of books. Just because I read it does not mean I like, support, endorse, or recommend it, and many books I like, support, endorse, and recommend may not be present in this sample. I am always happy to have a constructive conversation about books I have read or am reading.
*** CLICK ON A BOOK COVER FOR TO READ OR MAKE A COMMENT ON THE BOOK ***
Publications/Projects
*** CLICK ON AN IMAGE TO READ OR MAKE A COMMENT ON THE PUBLICATION ***
Contact